Last Updated: Sunday, 11 December 2016 14:43
Published: Sunday, 11 December 2016 14:43
Yesterday was my last race in 2016. That race ended the road course and oval championship. It was an oval race at Atlanta Motor Speedway in my Legends car. I went into the race leading the points, but only 3 points ahead of second. Whoever finished in front of who won the championship.
I went out to qualify and qualified 2nd, and the other championship contender qualified 5th. In the race, I got hung up on the outside on the start and fell back to 4th. I passed the car in front of me a couple of laps later. A caution came out and I restarted in third place. On the start, I stayed in 3rd and held that for the rest of the race. I finished third in the race, and won my 11th championship! We also had the years end banquet right after the race was over. I was awarded two outstanding awards. One was the championship trophy, and the other was the "David Ragan Sportsman of the Year" award presented to the driver who maintains a positive attitude despite challenges on and off the track throughout the year. I am super thankful for both of those awards.
I have accomplished so much this year. This year included 2 Elite Pro Class series championships, the David Ragan Sportsman of the Year award, 4 late model races, Gorsline Company Scholarship, being approved by NASCAR to race in K&N, and driving a Porsche GT4 Clubsport at Sebring. If anyone would have said I would have been able to accomplish all of those
in one year
, I never would have been able to believe you. I also never would have made it without the help and support of so many people and companies, thank you to all of you from my heart.
My next step on the ladder to NASCAR Sprint Cup (starting 2017 it's Monster Energy Cup) is the NASCAR K&N series. Only the "Camping World Truck" and "Xfinity" series are between K&N and Sprint Cup. K&N is out of our reach financially and we need help with that. We thought we had funding for several K&N races starting early 2017 but that hope seems to be slipping away. We have a firm commitment for funding for the K&N race at Watkins Glen in 2017 that runs the same weekend with the Monster Energy Cup Series. NASCAR wants me to run a 1/2 mile K&N oval before the Watkins Glen race and so it's mandatory we run at least one K&N race before that.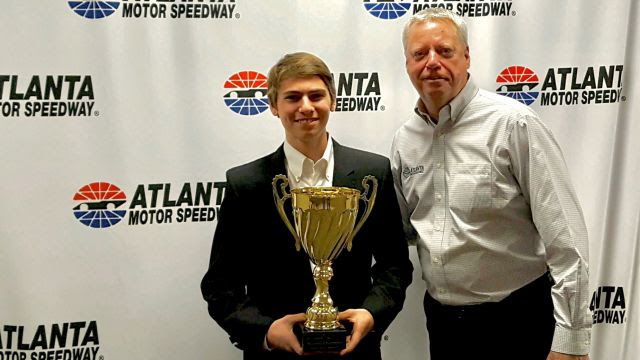 2016 Pro Series Oval/Road Course Series Championship presented by Ed Clark - President & GM Atlanta Motor Speedway
2016 "David Ragan Sporstman of the Year" award presented by Ken Ragan - Director Legends of Georgia AMS