Last Updated: Thursday, 27 April 2017 08:20
Published: Thursday, 27 April 2017 08:18
Last weekend was a great weekend for us winning the Legends race at Crisp Motorsports Park on Saturday. They had a 10 minute practice. We were 4th in practice, and decided to check the rear toe after because the car was very loose. It turned out that the rear tires were toed out 1/8" after the last race when I hit the wall on the last lap. The housing is bent, so we couldn't do anything at the track. After making some changes, 5 lap qualifying was next. The car was still loose and I qualified 4th. Before the race, we changed the cross weight a little. The car ended up being balanced perfect and picked up 3rd place on the start. Throughout the race, the top four or five cars were switching positions every lap. They had a wreck with a few laps to go and had to clean up oil around the track. I restarted the race in first place. It was a green white checkered, so all I had to do was maintain my lead. Going into turn three with 2 laps to go, second place tried to do a bump and run, but wasn't enough to get around me. After taking the white flag, I got a great run coming out of turn two and extended my lead to win the race! Legendsofga.com.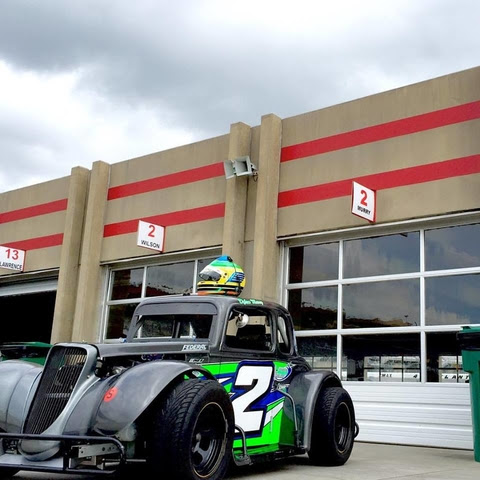 ---
NASCAR also just announced that I won the "Coca-Cola Move of the Race Award", "Sunoco Rookie of the Race Award", and the "Brembo Brake Through Challenge Award" for the K&N race at Greenville. I could not believe that I won 3 out of 4 awards in my first race! We have also been notified by NASCAR that I am approved to race at Watkins Glen and all other tracks in K&N. Thanks Rette Jones Racing and LZR for making my first K&N race a great one!
---
I have been going back and forth to The Mitty and my dad's track days at Road Atlanta. I had a lot of fun hanging out with my co-drivers at Spa and everyone and got a chance to drive a Datsun 510 and a Porsche 968. Both were very cool cars. I had a blast driving them.
Read More at www.DylanMurry.com